Registration
While you may use the support portal unregistered, registration to Jeppesen Customer Support offers our users a more in-depth, overall digital support center. Registering for our site gives you the ability to manage your support cases, get designated products alerts, as well as full access to our knowledge library and training. To register, begin by clicking the register button on the homepage or the sign in button at the top right of the page, and then click register.

Create a portal login

Enter your personal information where needed.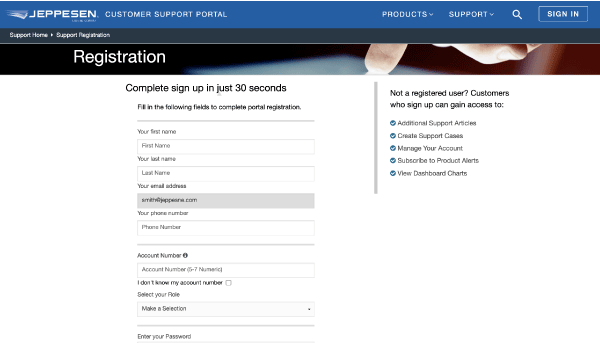 After submitting your registration form, Jeppesen will process your request and send an email for verification. Verify your email address.
Return to Jeppesen Support Portal, Sign in and explore. ***Many Jeppesen systems are created using different technologies and processes. An unfortunate result is that some of our newer products are not compatible with the user databases in some of our existing solutions. We have a long-term goal to bring as many of our solutions as possible under a single username and password. It will take us time to get there and we appreciate your patience while we strive towards that goal.